Directed Electronics Inc has long been known as the maker of high quality audio-video and security systems for vehicles worldwide. Headquartered in California, DEI automotive security systems are considered the industry benchmark were vehicle protection is concerned. No matter which corner of the globe one stands upon, Viper car alarms, along with DEI's other assorted lines including Python and Hornet, translate into excellence throughout many languages and geographic zones worldwide.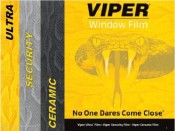 What many people do not know however, is that DEI also produces several high quality lines of vehicular window film to satisfy all of your tinting needs. A Razor's Edge has carried DEI audio-video and security products for many years now—and is proud to offer DEI Viper Window Film as part of our commitment to unparalleled quality, selection and value. Please consult our Tint Tutorial for more information on how to properly care for Viper window film.
DEI Viper offers the following tint film lines, which A Razor's Edge proudly carries:
Style Film – Provides standard UV protection and is offered in a full range of shades.
Shade Film – Provides value and performance while significantly reducing temperatures in the vehicle. Viper Shade Film is the richest charcoal color and is offered in a variety of shades.
Ultra Film – Offers comfort and elegance in a variety of shades. Significantly reduces the temperatures in the vehicle by blocking over 66% of the sun's heat. Viper Ultra Film offers the richest black and the truest grey.
Pure Film – Provides a high performance solution for temperature reduction. Viper Pure Film delivers purity of color and materials in a complete range of shades.
Pure IR Film – Sets the standard in infrared heat protection and offers superior heat reduction and personal comfort. Viper Pure IR Film provides purity of color and materials, as well as a variety of shades.
Ceramic Film – Ceramic Film offers the ultimate in heat rejection, blocking more than 99% of the UV rays and over 80% of the infrared heat.
To learn more about the complete line of DEI Viper automotive tint film, including manufacturer's specifications, please visit the Directed Electronics Website.
Call (602) 788-7222 today to obtain a complimentary estimate for your vehicle, or to schedule an appointment with one of our expert installation staff.