Kenwood has produced high quality consumer electronics, test and communication equipment since 1946. It was the first company to develop, among other innovative products, solid state amplifiers, high frequency transceivers and satellite receivers.

Today Kenwood products are distributed in over 120 countries throughout the world and enjoy a reputation for reliability and technological innovation. Kenwood manufactures audio-video and communications-based products for home, automobile and field usage in a variety of applications.
Kenwood offers several different lines of high quality mobile audio-video products for automobiles and marine applications—including speakers, subwoofers, amplifiers, single and double din CD, DVD and Navigation headunits, and even electronic components that integrate directly with Android SmartPhones. We have listed the current product line-up below, along with specific features for you to peruse in order to decide which option is best for your needs. Should you come across any terms or features requiring clarification, please visit our Mobile Audio Glossary to learn more…

In Dash Digital Media-CD Headunits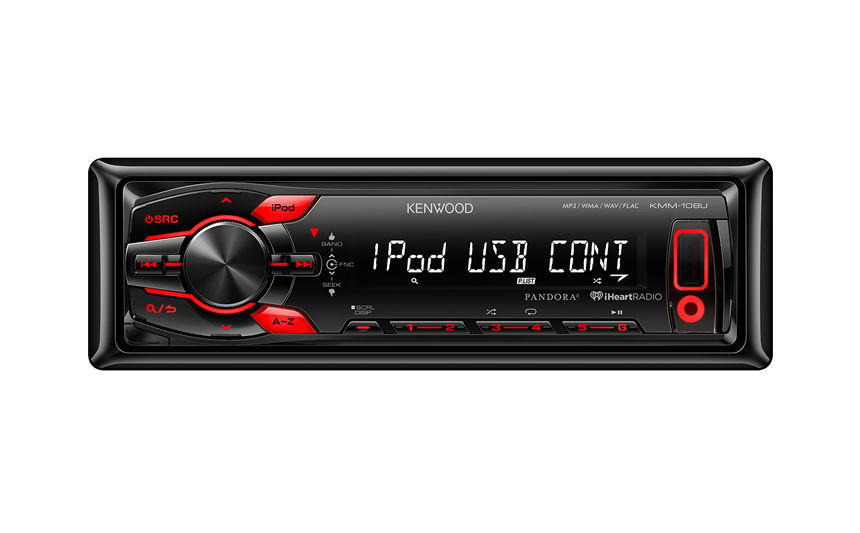 Kenwood offers a wide variety of in dash AM/FM/CD headunits to fit every budget, as well as all convenience desires and needs. Kenwood's digital media units feature no moving parts and instead rely on digital media such as MP3 players to deliver audio reproduction. These units also come with Bluetooth capability, along with other convenience features including USB and auxiliary inputs. Digital media units are perfect for boats, motorcycles, ATV's, or any other application where space and vibration can cause a CD-based unit to perform less than optimally.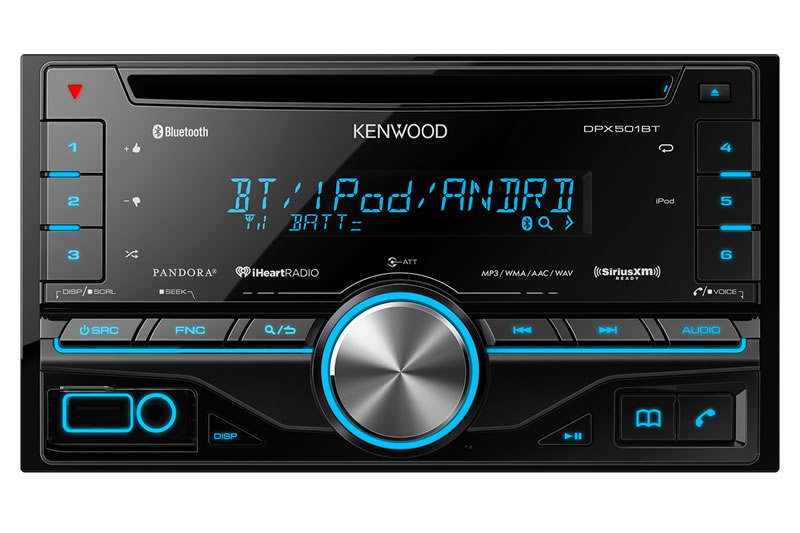 Kenwood CD players come in single and double din sizes that fit into a wide variety of vehicles with the use of additional installation kits and accessories when necessary. These headunits also come loaded with various convenience features including Bluetooth capability for wireless audio streaming and hands-free calling, Sirius-XM satellite radio compatibility, iPhone and Android Smartphone control capabilities, Aha Radio APP programming for Android Smartphones,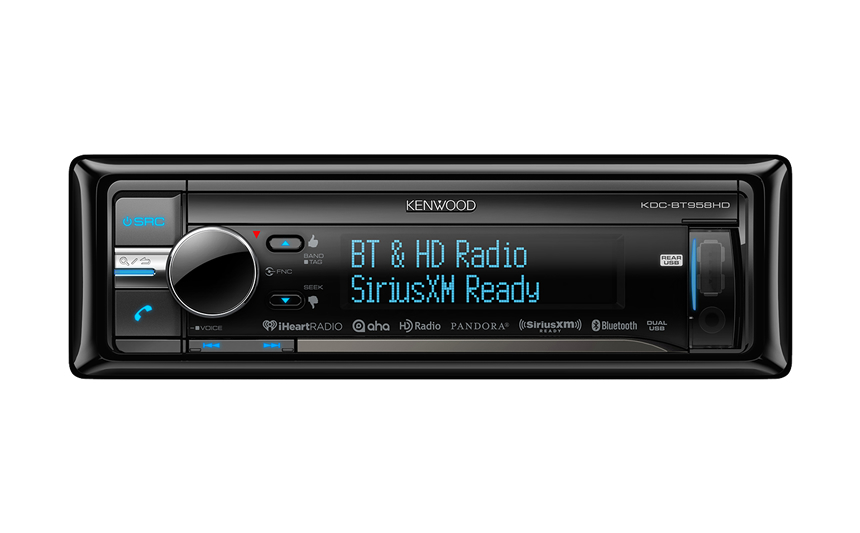 HD radio built in to increase the quality of FM radio reception, Pandora Radio capability through your smartphone, as well as USB and auxiliary inputs for integration of your mobile devices. In addition, select Kenwood headunits also come with DriveEQ, which helps minimize road noise for better sound quality reproduction while cruising your favorite open spaces. Many of the headunits Kenwood offers also come with variable illumination, allowing you to match your vehicle's factory lighting color to the aftermarket deck.

In Dash Multi-Media and Navigation Headunits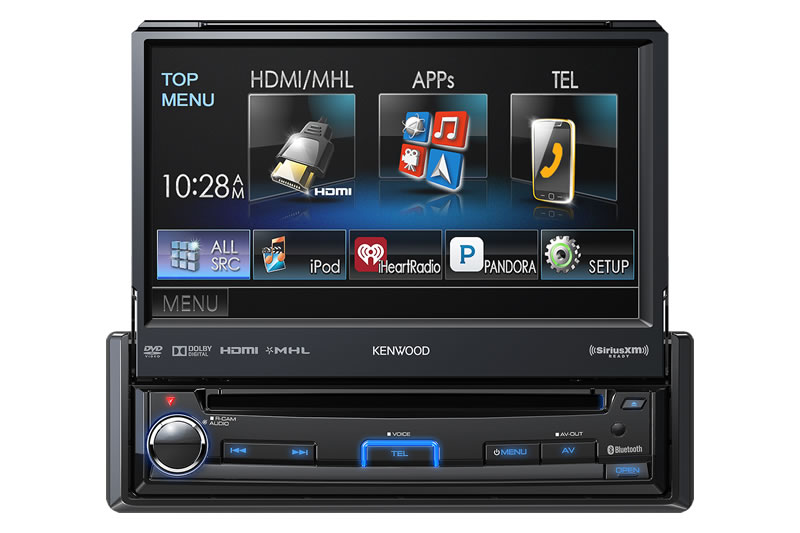 Kenwood offers a wide variety of DVD multi-media and navigation headunits to suit all of your wants and needs. These headunits are double din sized in order to accommodate the large LCD touchscreens placed front and center at your command—save for one specialty unit that is single din with a foldout 7″ LCD touchscreen monitor for size-restricted applications. The DVD multi-media units come in either 6.2″ or 7″ monitor sizes, and offer various convenience features including Bluetooth capability,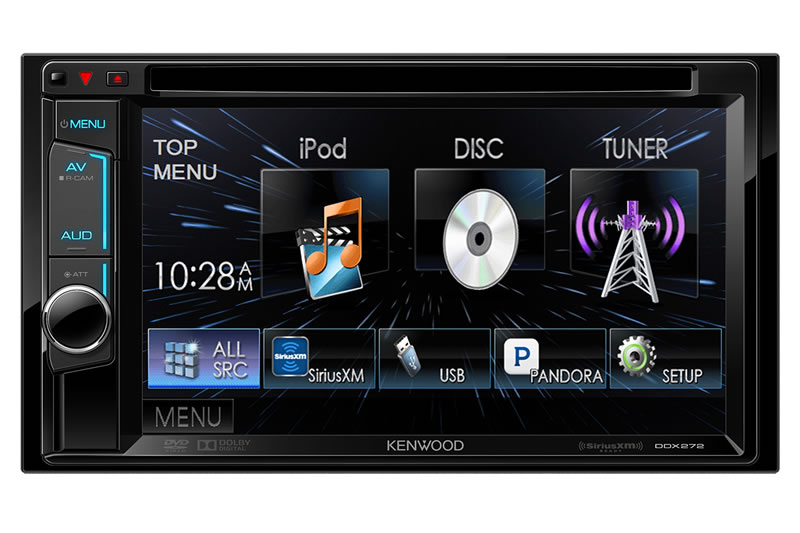 Sirius-XM, HD and Pandora Radio compatibility, Android Auto and Apple Car Play for Android and Apple Smartphones, multicolor displays, hands-free voice guided operation, rear view backup camera compatibility, and True Mirroring capability. True Mirroring allows for the connectivity of certain smartphones into the headunit, in order for functions including navigation to be mirrored onto the in-dash touchscreen display—cellular service availability permitting.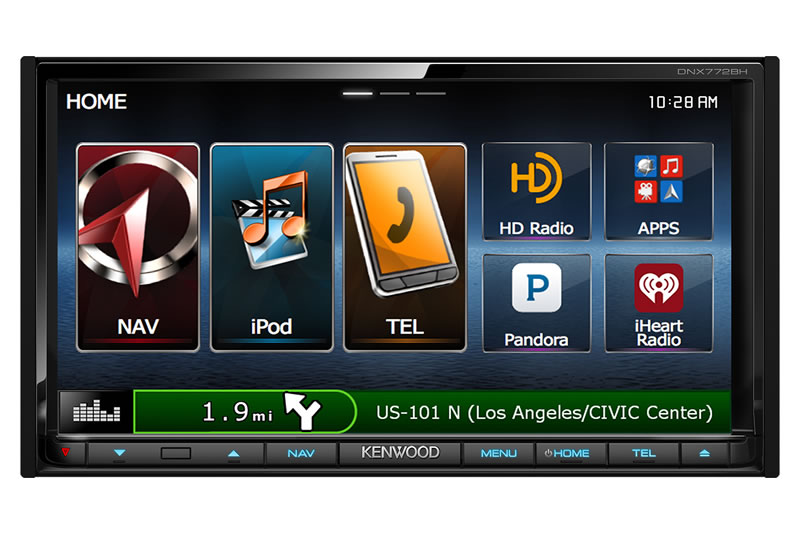 Kenwood's in-dash Navigation units offer the same convenience features described above, but add dedicated GPS navigation via an external CPU mounted in the vehicle. This setup allows for turn by turn navigation independent of cellular service. For those who enjoy roughing it out of range from the coverage of electronic conveniences, GPS navigation is a must. Included in these units is the ability to integrate both Android and Apple smartphones through Android Auto and Apple Car Play systems.
These systems allow for the syncing of functions including maps, text and phone messaging, as well as music streaming with just the touch of a button or simple voice command. Never leave home again without the entertainment solution of a Kenwood multimedia headunit, nor the security of knowing you are getting where it is you need to go with the help of Kenwood's comprehensive navigation system!

Full Range Speakers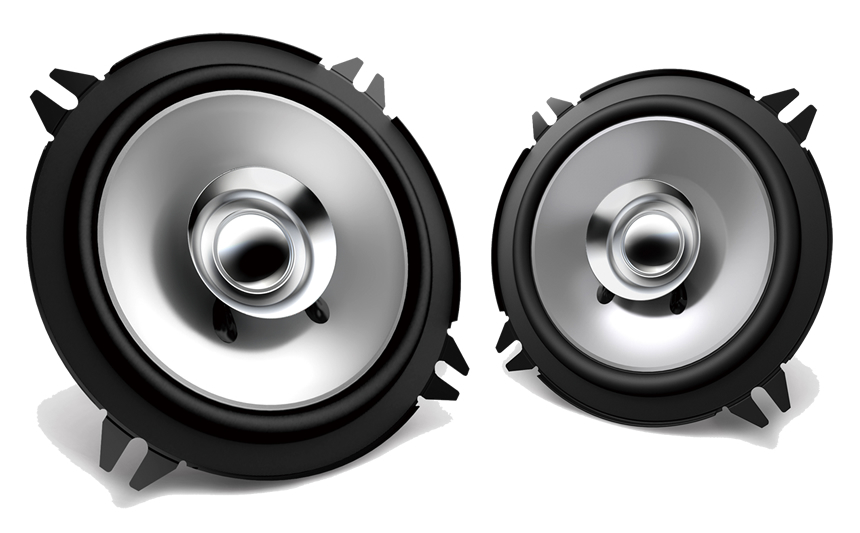 Kenwood is known the world over for its decades of expertise crafting high quality speakers that excel in clean, crisp and clear audio reproduction. Kenwood currently offers several lines of speakers to fit every budget and taste, in addition to several marine and specialty fit enclosed options. The Kenwood Sport Series speakers are perfect replacements for stock speakers.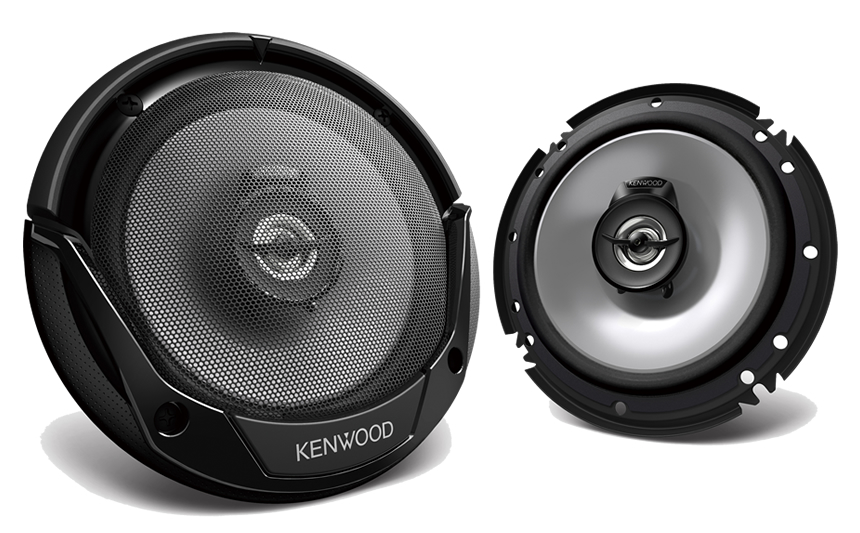 With 4″, 5.25″, 6.5″, 4×6″, 6×8″ and 6×9″ sizes, most stock location vehicle applications are available. These speakers are efficient and economical and work well with factory power and no external amplification. Being made with polypropylene woofer cones and balanced dome tweeters, they are also a solid step up from full range paper pulp speakers found in most vehicles' stock audio systems.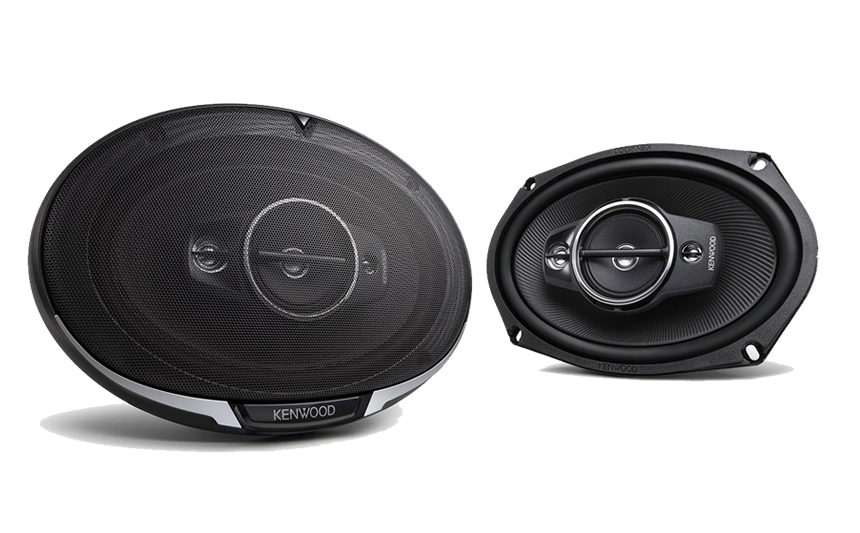 Kenwood's Performance Series speakers offer enhanced sound quality without the high end price tag often associated with finely tuned aftermarket products. Performance Series speakers come in sizes ranging from 4″-6.75″ round and 4×6″-6×9″ oval to mate with factory speaker locations in every vehicle.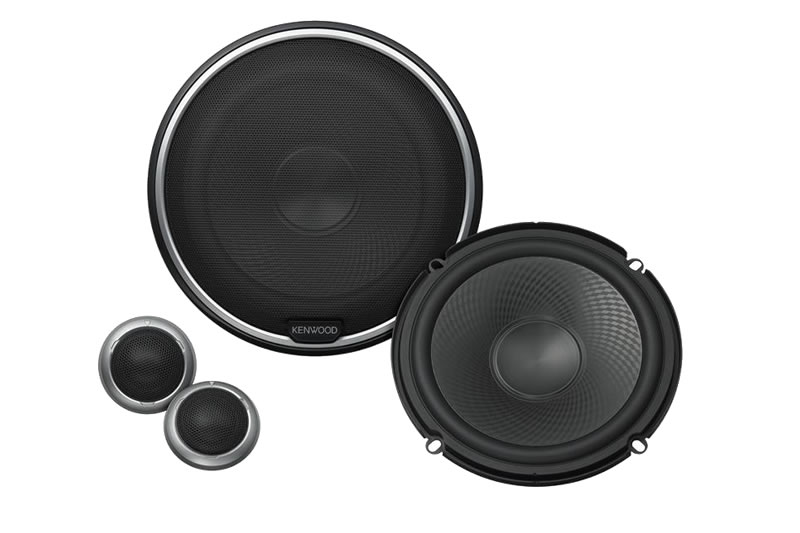 They feature reinforced coated paper pulp midwoofer cones mated with ceramic coated paper tweeters for fantastic mid range response combined with natural sounding high frequency reproduction. The Performance Series also features 5.25″ and 6.5″ component speaker packages made with polypropylene midwoofer cones, soft and smooth silk dome tweeters, and complex passive crossover networks for excellent dissemination of midrange and high frequency response.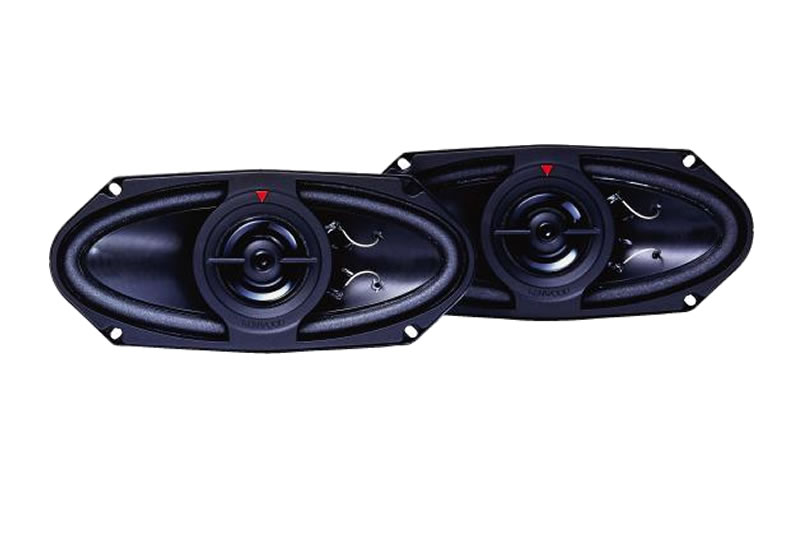 For those with older vehicles containing obscure sized speakers, Kenwood has your replacement needs covered without having to modify installation spaces, or spending an excessive amount of money. These offerings include 3.5″ and 4×10″ coaxial speakers crafted from polypropylene for durable yet natural sound reproduction, resulting in far better sound quality than original paper cone oblong and odd sized speakers could ever achieve. No matter what your specific application, budget and sound quality needs happen to be, rest assured that Kenwood has you covered from the get go, and as you go on down the road.

Subwoofers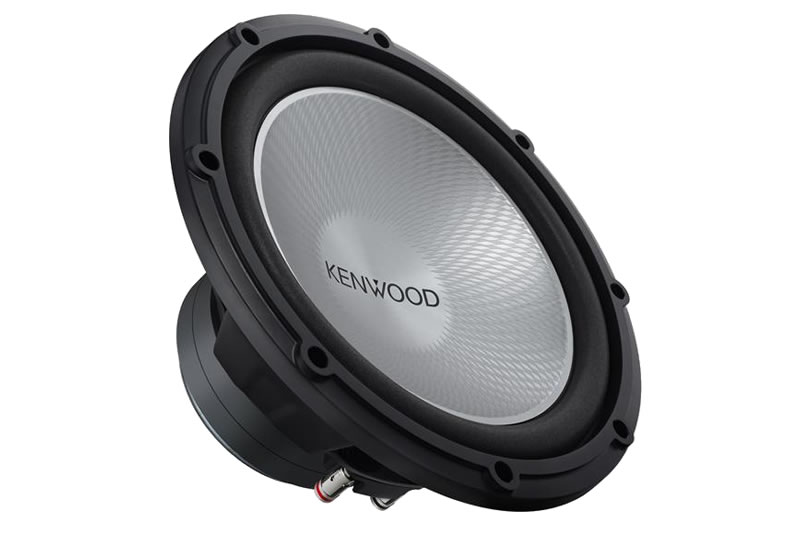 Kenwood's subwoofer product lines mate the perfect low frequency bass response to match their full range high end speakers. Kenwood's entry level 12″ subwoofers serve up clean and concise low end frequency for budget conscious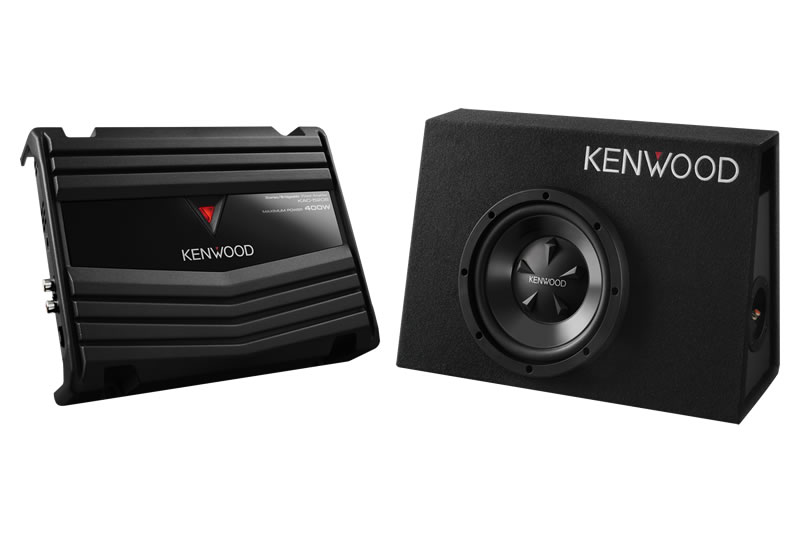 consumers who would like to compliment a stock high end with efficient, clean and clear bass response. These subwoofers feature a polypropylene cone that handle around 250W RMS. Kenwood's Performance Series 12″ subwoofers step up the bass with a diamond design polypropylene cone and increased power handling for better low end response. Both subwoofers come in single 4-ohm voice coil configurations.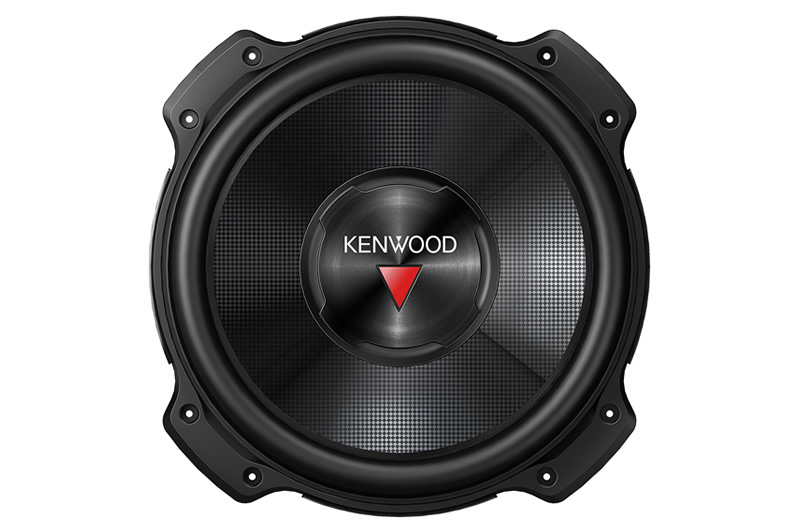 Do you have big bass requirements but small space to spare? If so, then Kenwood's shallow mount subwoofers are the perfect answer to your wishes. Shallow mount subwoofers come in 10″ and 12″ sizes with power handling between 300W-400W RMS.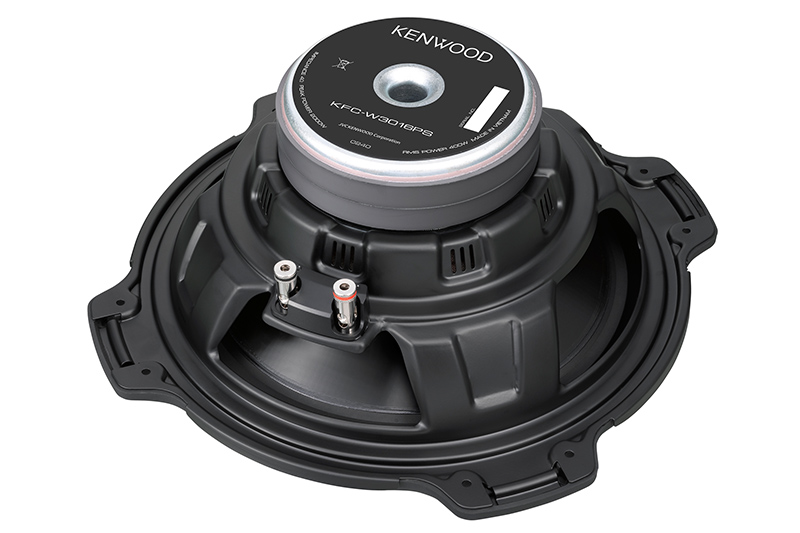 These subwoofers come with square patterned polypropylene cones, oversized diaphragms, rubber surrounds, ferrite magnets and steel baskets. The result is rigid and fast moving, yet deep and rich bass response that is pleasantly surprising coming from a shallow mount subwoofer. Both the 10″ and 12″ shallow mount subwoofers come with a single 4-ohm voicecoil.
Finally, Kenwood offers several specialty options for anyone looking to add extra low end response to their vehicles in a unique way. Kenwood's 8 1/4″x 5 1/8″ powered subwoofer enclosure features an all in one woofer, amp and level control solution that fits in a space less than 1 cubit foot.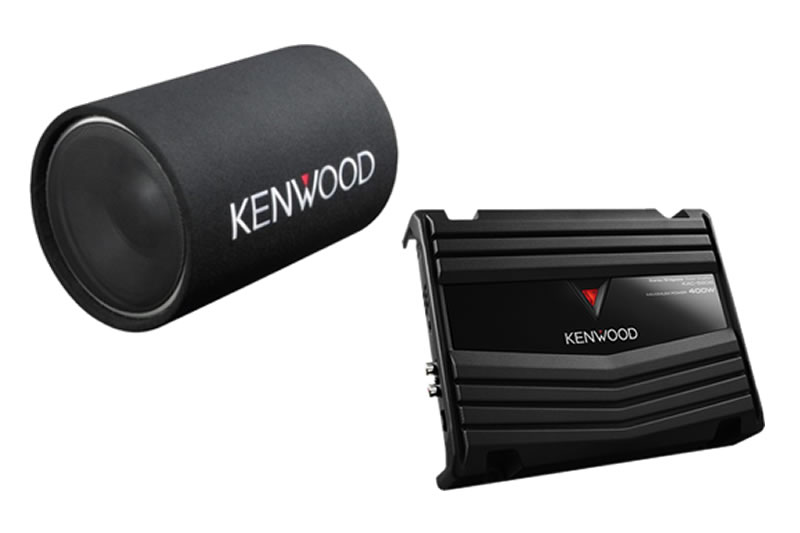 Kenwood also offers several Party Packs, which include an amplifier and a pair of either 10″ or 12″ subwoofers meant to be optimized by the amplifier, both ohm and watt-wise. All you have to do is purchase an enclosure, wire it all up and you are ready to go thumping on down the road.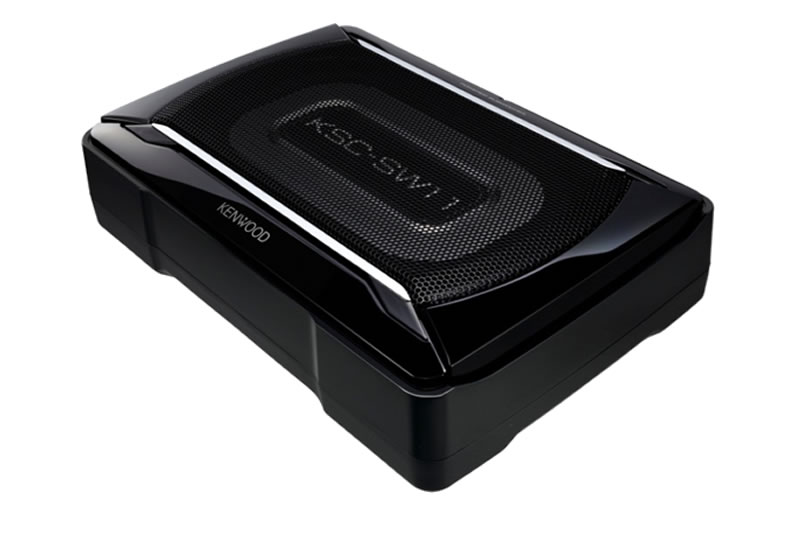 In addition and for vehicles that do not allow for standard subwoofer installation, Kenwood offers a 12″ ported bass tube enclosure that comes with an amplifier as well. These options are perfect for anyone who craves bass but does not want to piece all of the components together by themselves. No matter what your low end frequency response requirements are, trust Kenwood to help you deliver the boom that will fill up your trunk with quality bass each time, every time.

Power Amplifiers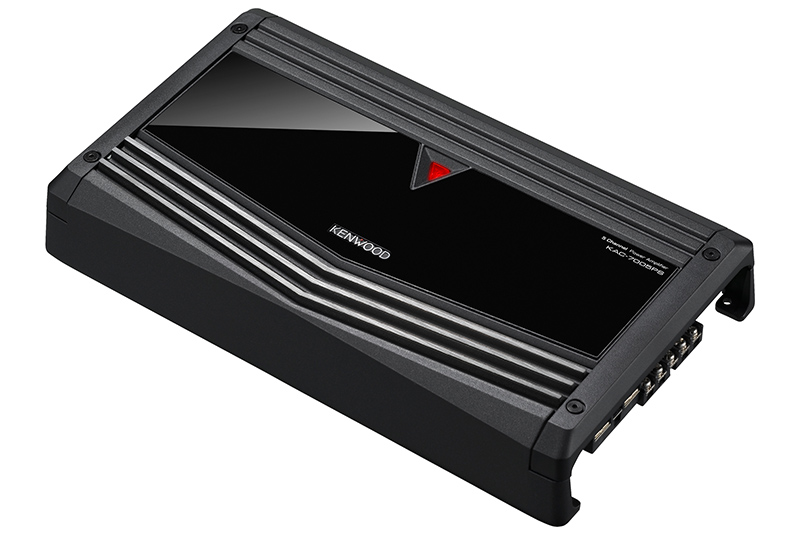 Once you have your desired speakers and subwoofers picked out, it is time to provide them with the awesome power of Kenwood amplification. Kenwood has a storied reputation for making some of the finest home and car audio amplifiers available, and for utilizing only the highest quality circuitry and componentry during the creation process. Kenwood offers various 2, 3/4 and 5 channel amplifier options that are both 2-ohm and 4-ohm stable, and deliver between 150W-600W RMS. These amplifiers feature high and how pass filters, internal crossovers, variable bass boost, and very good signal to noise ratios. The result is an amplifier that will cleanly,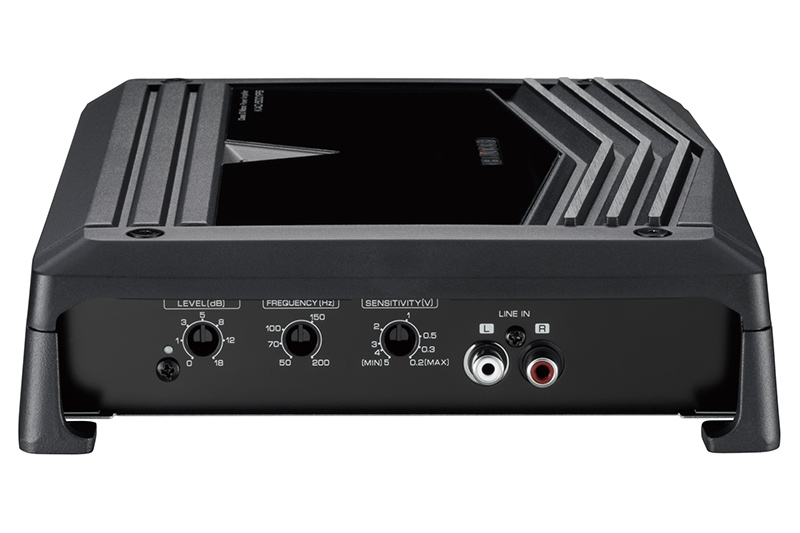 clearly and concisely power your speakers and subwoofers with the Kenwood quality seal of approval. Kenwood also offers several monblock Class D amplifiers meant to power your subwoofers with incredible efficiency and excellent quality power. These amplifiers are 2-ohm and 4-ohm stable, provide between 250W-1000W RMS and feature Power-Mosfet switching systems to ensure the bass goes on and on without fail.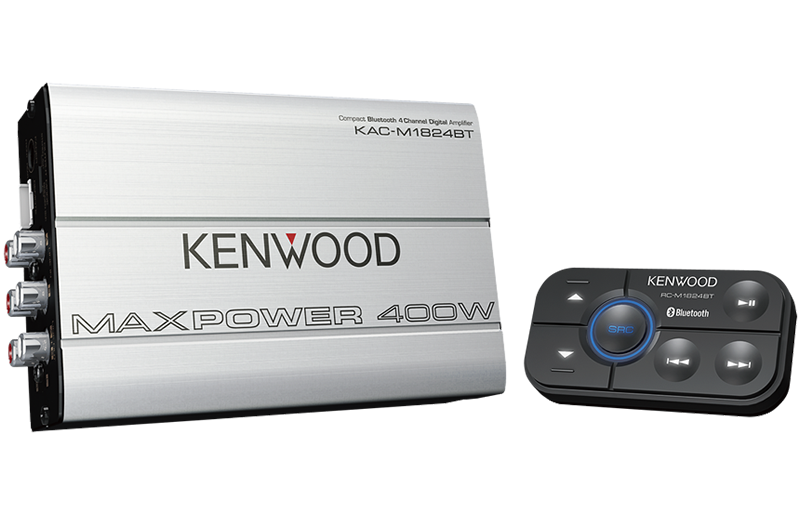 If you are looking for clean and clear power amplification but have limited space to put it in, then Kenwood's compact amplifier offerings are exactly what you have been searching for. These compact amplifiers come in 2-ohm and 4-ohm stable 4 channel, as well as monoblock applications with Class D technology for high efficiency and high quality combined—while offering up between 200-300W RMS power.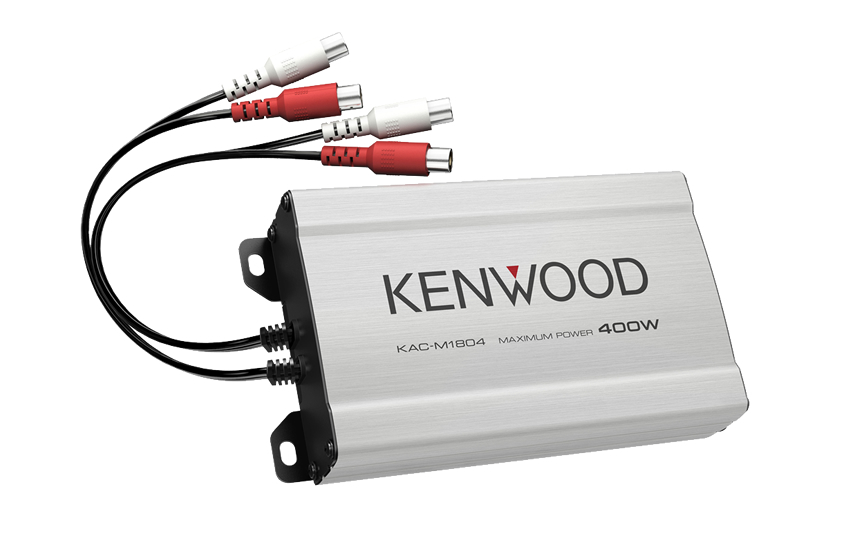 There is even a 4-channel compact amplifier with a Bluetooth option, for wireless integration into your existing Bluetooth headunit (although the amplifier still needs power and ground wires of course!). Finally, Kenwood rounds out its compact line by offering a 200W RMS amplifier meant for motorcycles and ATV's that is less than 6″ cubed. No matter what your need and application is, there is no reason not to have a Kenwood amplifier powering your system loudly and clearly.

Marine Equipment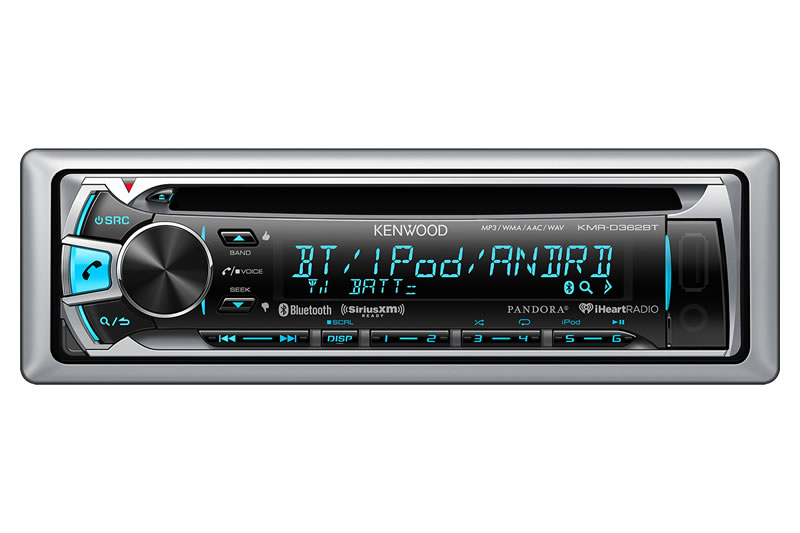 If personal watercraft pursuits are your passion, Kenwood can meet you on the waves with its Marine Series line of headunits and speakers. Because the elements on the water are so much more hostile and demanding than inside a vehicle, serious enthusiasts know it pays dividends to be properly prepared with the correct equipment to brave the waves. Kenwood offers both media and CD player headunits for just such an occasion.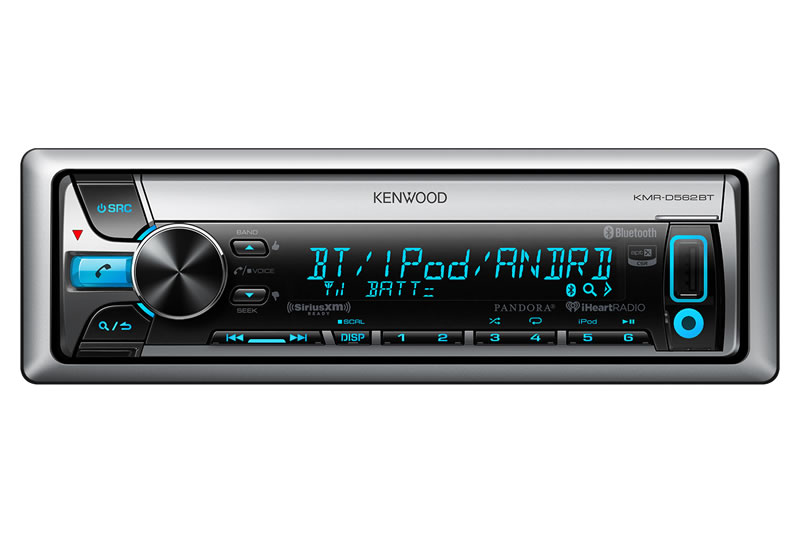 These units feature conveniences including Bluetooth connectivity, USB and auxiliary inputs for Smartphone and MP3 player integration, high voltage amplifier pre-outs to enhance sound quality and volume when mated with external amplification, variable color illumination, and brushed silver finishes that are element resistant and dust protective. The CD player units specifically also come with dampening technology to help eliminate CD skipping while chopping over waves with the tunes blaring.
For high quality, high end audio that mates flawlessly with your marine headunit, choose Kenwood's Marine Series speakers. These speakers come in 6.5″ full range and 2 way offerings. They are crafted with element defying santoprene surrounds and polypropylene injection molded woofer cones mated to balanced dome tweeters. Both the woofers and tweeters are water resistant, and the speakers come in a plastic backed housing to ensure that splashes here and there will not affect function or sound quality. These speakers come in white and black color options, with attached grilles and special mounting hardware, and handle between 50W-100W RMS.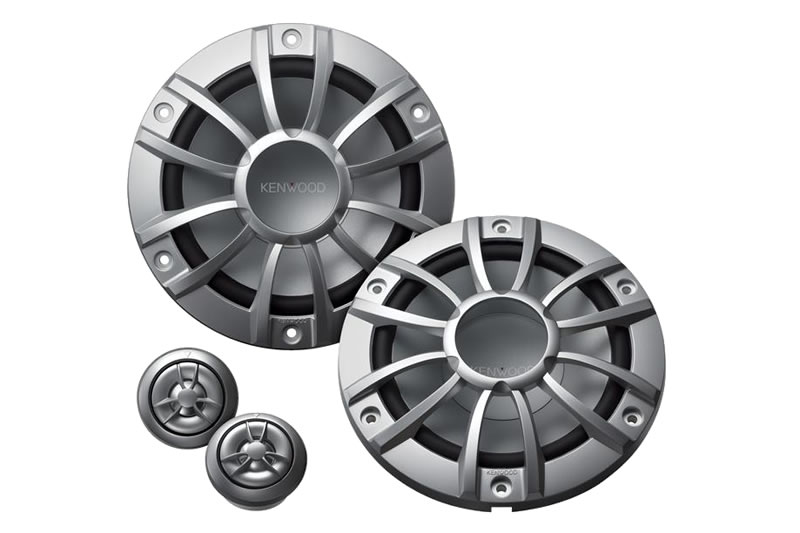 For audiophile enthusiasts who don't want to sacrifice amazing sound quality just because they are out on the open water, Kenwood also offers a 6.5″ set of component speakers. These speakers feature a polypropylene woofer, PEI balanced dome tweeter, sturdy ABS basket, durable yet flexible santoprene surround, UV resistant grille and frame, and complex internal cross over network meant to deliver excellent sound quality reproduction all day long.
Finally, if you want to add low end bass frequency response to balance out the high end frequency you have just created, Kenwood's 10″ Marine Series subwoofer and amplifier combo is the answer. Just like Kenwood's other Marine Series speakers,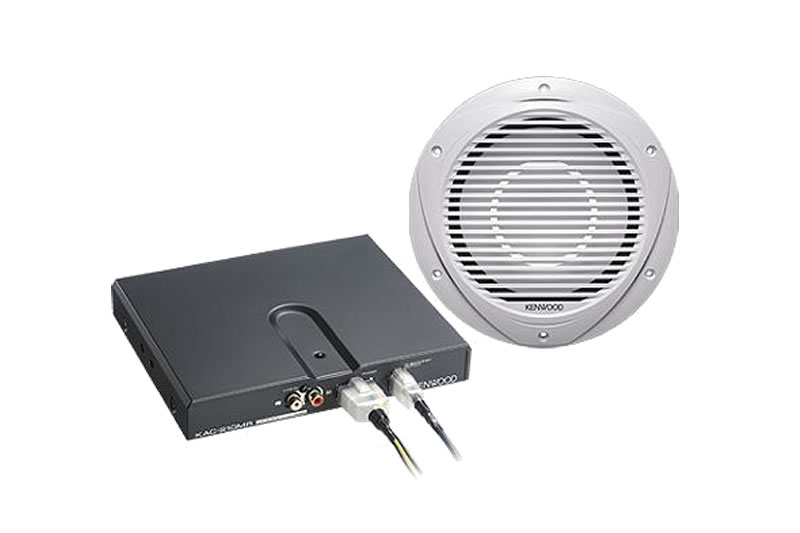 the 10″ subwoofer is crafted from water and heat resistant polypropylene cones and santoprene surrounds. The compact and weather resistant amplifier will deliver around 50W RMS of constant, reliable power to adequately provide you with the perfect amount of bass to round out your dream marine system. With Kenwood's Marine Series equipment at the helm, you will be the envy of every boater in the water, and the life of the party on yours!
Call (602) 788-7222 today to obtain a complimentary estimate for Kenwood electronic equipment in your vehicle, or to schedule an appointment with our expert installation staff.