Nozomu Matsumoto founded Pioneer as an audio products manufacturer in 1938, making speakers in his garage. Today Pioneer is a world leader in electronics products for the car, home and business markets. It is highly respected by industry peers for its role in introducing such innovations as consumer laser disc (1979), car CD player (1984), GPS car navigation (1990), DVD-Video player (1996), high definition plasma display (1997) and organic electroluminscent (OEL) display (1997).

Pioneer's main goal is to develop and manufacture innovative, high-tech entertainment and electronic equipment for the intelligent and discerning consumer who demands only the finest in audio-video reproduction.
Pioneer offers several different lines of high quality mobile audio-video products—including speakers, subwoofers, amplifiers, single and double din CD, DVD and Navigation headunits, and even electronic components that integrate directly with Apple iPhones and Android smartphones. We have listed the current product line-up below, along with specific features for you to peruse in order to decide which option is best for your needs. Should you come across any terms or features requiring clarification, please visit our Mobile Audio Glossary to learn more…

In Dash Digital Media-CD Headunits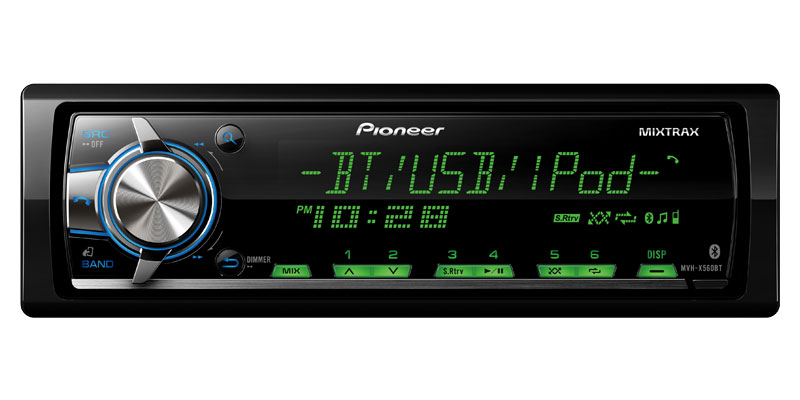 Pioneer offers a wide variety of in dash AM/FM/CD headunits to fit every budget, as well as all convenience desires and needs. Pioneer's digital media units feature no moving parts and instead rely on digital media such as MP3 players to deliver audio reproduction. These units also come with Bluetooth capability, and other convenience features including USB and auxiliary inputs. Digital media units are perfect for boats, motorcycles, ATV's, or any other application where space and vibration can cause a CD-based unit to perform less than optimally.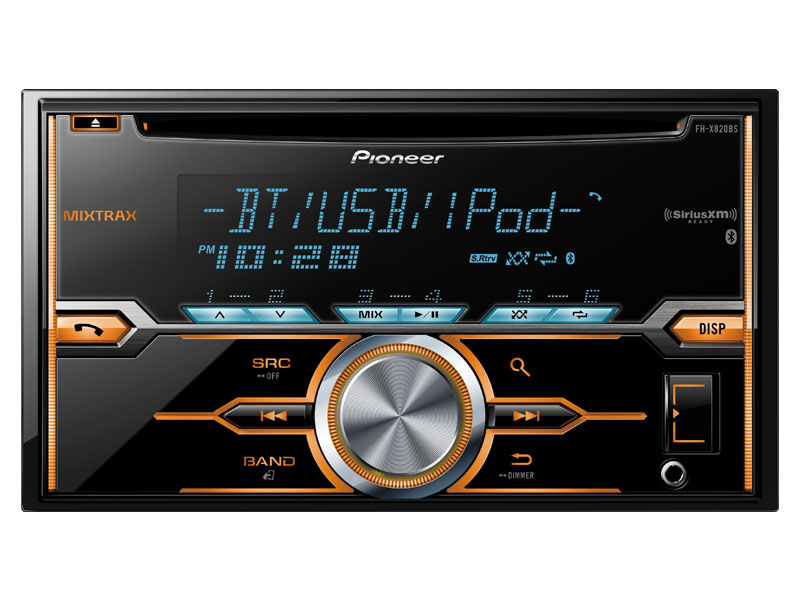 Pioneer CD players come in single and double din sizes that fit into a wide variety of vehicles with the use of additional installation kits and accessories when necessary. These headunits also come loaded with various convenience features including Bluetooth capability for wireless audio streaming and hands-free calling, Sirius-XM satellite radio compatibility, hands free voice recognition for iPhone users, Android music support, Mixtrax music programming,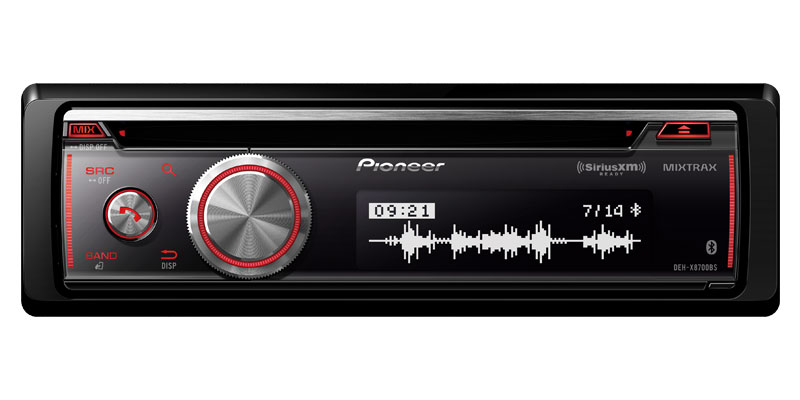 HD radio built in to increase the quality of FM radio reception, Pandora Radio capability through your smartphone, as well as USB and auxiliary inputs for integrating your mobile devices. Many of the headunits Pioneer offers also come with multiple illumination options, allowing you to match your vehicle's factory lighting color with the aftermarket deck.

In Dash Multi-Media and Navigation Headunits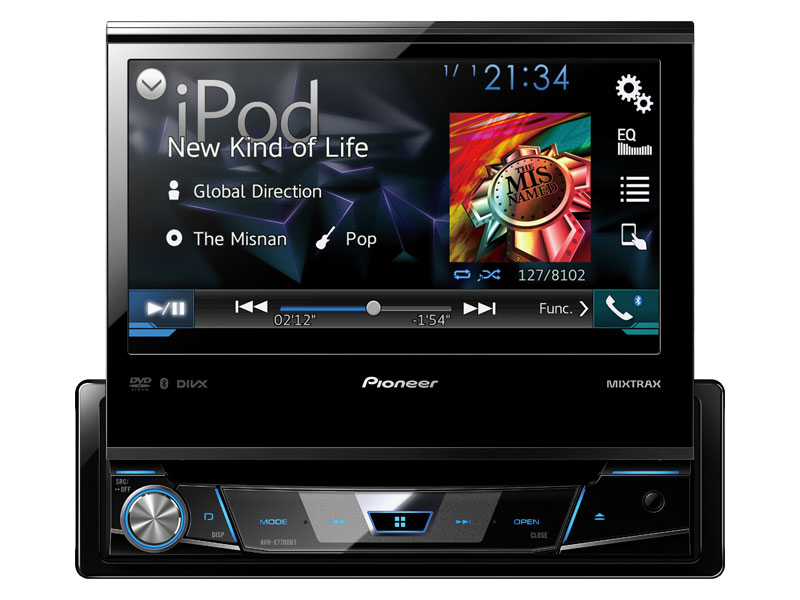 Pioneer offers a wide variety of DVD multi-media and navigation headunits to suit all of your wants and needs. These headunits are double din sized in order to accommodate the large LCD touchscreens placed front and center at your command—save for two units that are single din with a foldout 7″ LCD touchscreen monitor for specialty, size-restricted applications. These DVD multi-media units come in either 6.2″ or 7″ monitor sizes, and offer various convenience features including Bluetooth capability,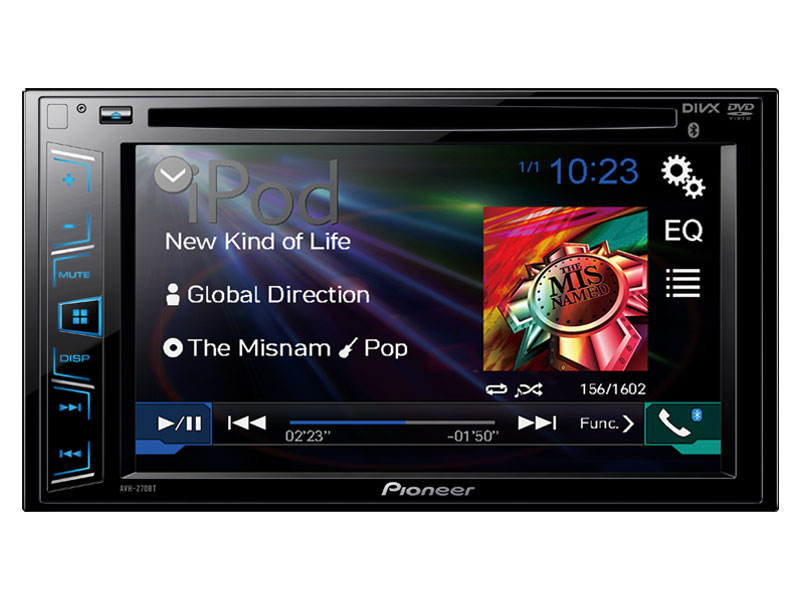 Sirius-XM, HD and Pandora Radio compatibility, APP radio connectivity for both Android and Apple phones, multicolor displays, rear view backup camera compatibility, and Mirror Link capability. Mirror Link allows for the connectivity of certain smartphones into the headunit, in order for functions including navigation to be mirrored onto the in-dash touchscreen display, cellular service availability permitting.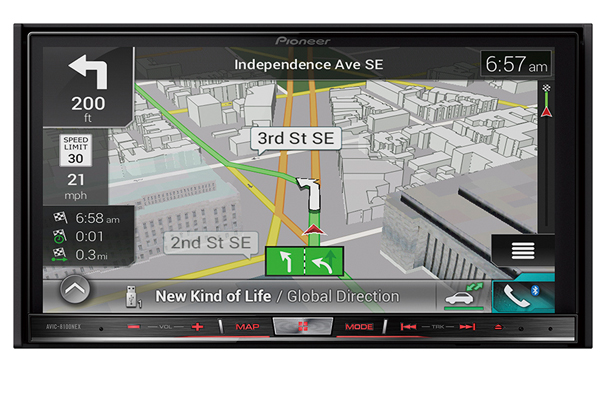 Pioneer's in-dash Navigation units offer the same convenience features described above, but add dedicated GPS navigation via an external CPU mounted in the vehicle. This setup allows for turn by turn navigation that functions independently of cellular service. For those who enjoy roughing it out of range from the coverage of electronic conveniences, GPS navigation is a must. Included in these units is the ability to integrate both Android and Apple smartphones through AndroidAuto and Apple Car Play systems.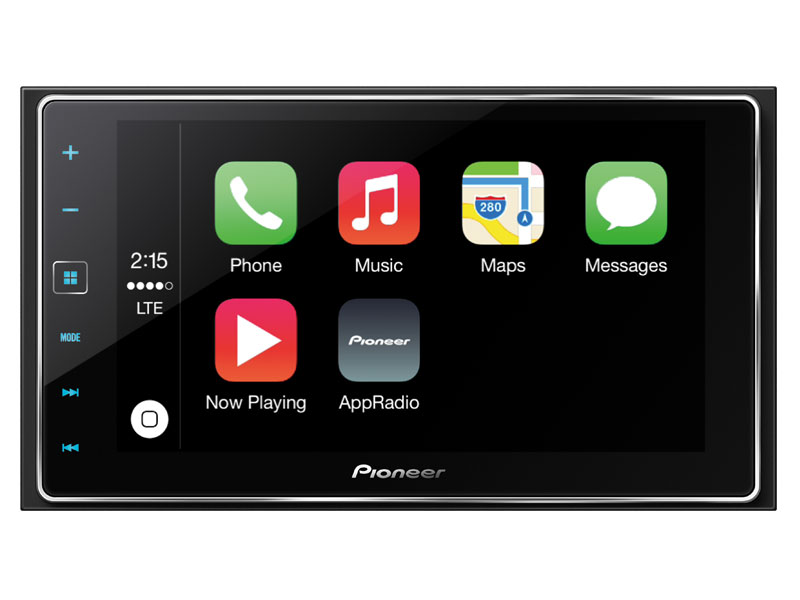 These systems allow for the syncing of functions including maps, text and phone messaging, as well as music streaming with just the touch of a button or simple voice command. If you are an iPhone user, Pioneer also has you covered with its new APPRADIO headunit. This revolutionary unit allows for direct connection of newer iPhones, and provides intuitive touchscreen control of the phone's basic text and voice messaging, calling, navigation, Siri and music systems. The APPRADIO, along with the rest of Pioneer's multimedia offerings, is truly an autophile's, not to mention a technophile's dream come true!

Full Range Speakers
Pioneer began its legacy by handcrafting high quality speaker components almost a century ago now. Although quite a bit of time has passed since its humble beginnings, the same dedication to quality componentry and excellent fidelity has only strengthened with age. In this spirit, Pioneer offers several lines of speakers to fit every budget and taste, in addition to several marine and specialty fit enclosed options. The Pioneer G-Series speakers are perfect replacements for stock speakers.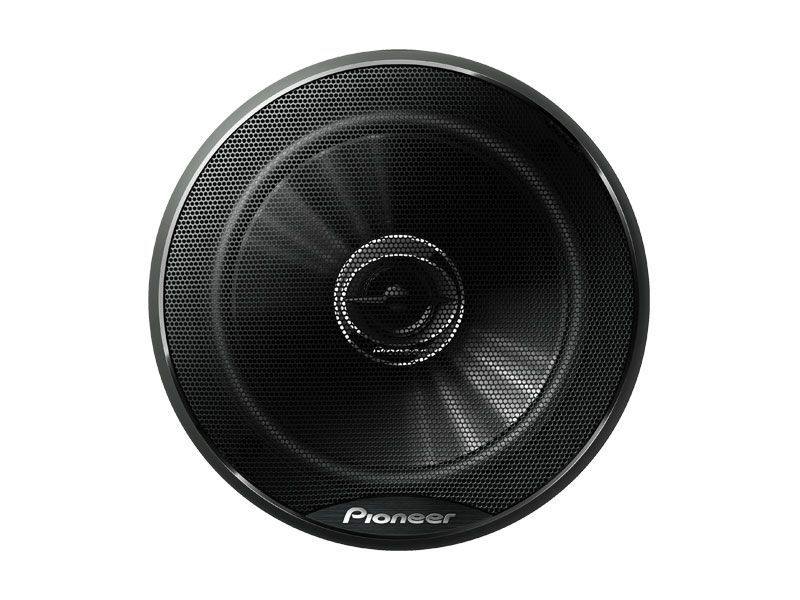 With 4″, 5.25″, 6.5″, 4×6″ and 6×8″ sizes, most stock location vehicle applications are available. These speakers are efficient and economical, and will work well with factory power and no external amplification. Being made from high grade plastic and rubber coated cloth, they are also a solid step up from full range paper speakers found in most vehicles' stock systems.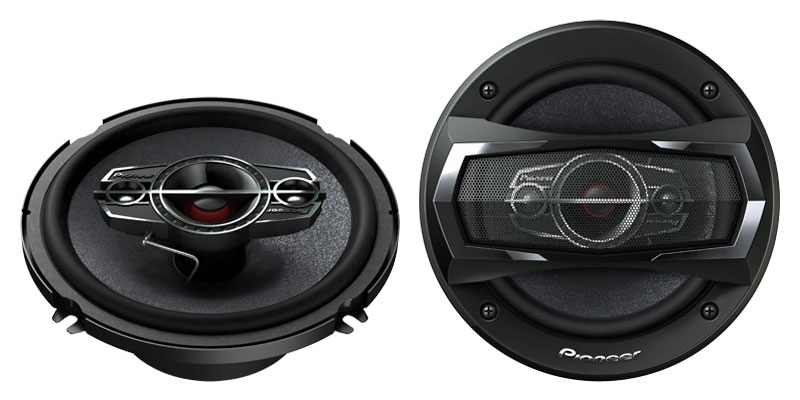 Pioneer's A-Series speakers offer enhanced sound quality without high end cost often associated with finely tuned aftermarket speakers. The A-Series speakers come in sizes ranging from 4″-6.5″ round and 4×6″-6×9″ oval to mate with factory speaker locations in every vehicle.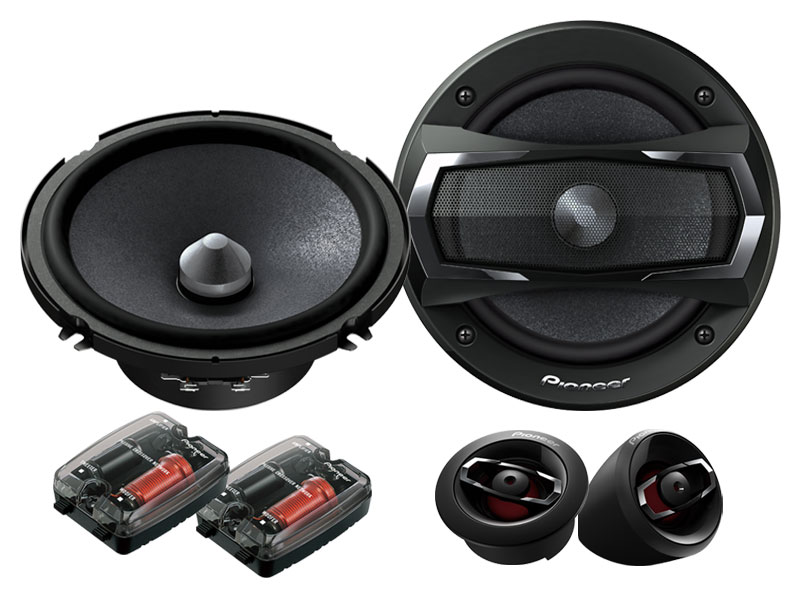 They feature Multilayer Mica Matrix Cone Designs mated with silk dome tweeters for excellent mid range response combined with smooth high frequency reproduction. The A-Series also features 5.25″ and 6.75″ component speaker packages, with passive crossover networks for excellent dissemination of midrange and high frequency response.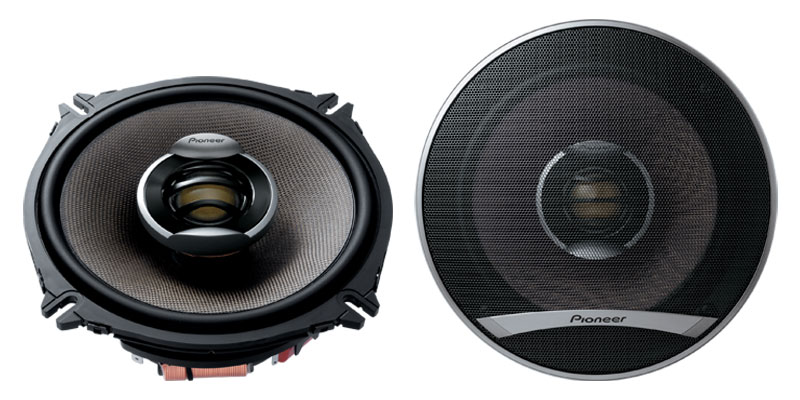 For those interested in incredibly high quality sound reproduction at a deceptively affordable price, Pioneer's D-Series speakers step up to the plate and hit a home run time and again. The D-Series coaxial speakers come in sizes ranging from 4″-6.75″ round and 6×8″-6×9″ oval, and components come in sizes ranging from 5.25″-6.75″.
These speakers are made with Twaron Aramid Fiber and the new revolutionary Basalt Fiber IMX Speaker Cones, mated to high quality silk dome tweeters and sophisticated passive crossover networks. The result is speakers without equal in their price range the world over. Rest assured that if you end up with a set of D-Series speakers in your vehicle, you will not find a better quality set without doubling the price you paid.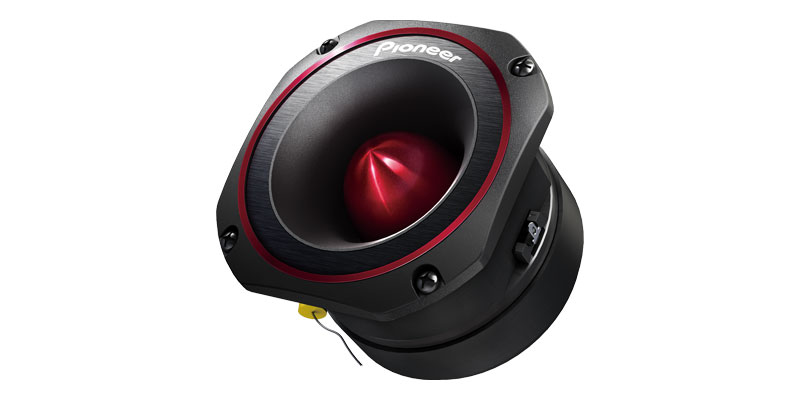 Finally, for those who crave audiophile quality and sound response to power their listening experience, the Pioneer PRO series speakers are the kings of the hill. Sizes range from 4″-8″ round and 6×9″ oval, and the separate bullet tweeters are 3.5″-4″. PRO series speakers are anchored by high strength, stamped steel frames, and feature lightweight blended pulp cones suspended by a corrugated surround and motivated by oversized magnets—resulting in copious amounts of sensitivity, excursion, and power handling.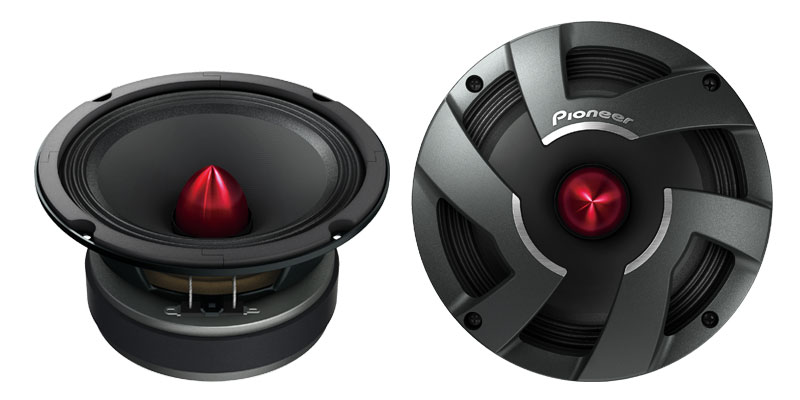 The tweeters feature titanium diaphragms for precise reproduction of high end sound frequency under the most strenuous conditions. If you are seeking sound reproduction so loud and real you will swear you are sitting smack dab in the middle of the symphony pit, then the Pioneer PRO series speakers are right up your alley.

Subwoofers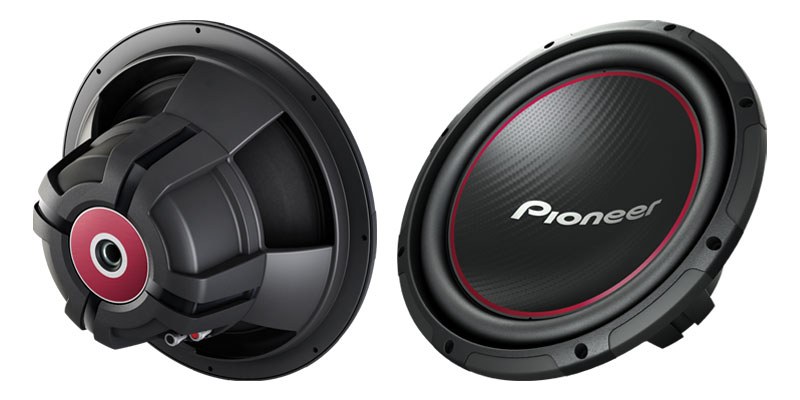 Pioneer's various subwoofer product lines continue the company's tradition of excellence where audiophile grade components are concerned. The entry level 10-12″ component subwoofers serve up clean and concise low end frequency for budget conscious consumers and anyone who would like to compliment a stock high end with efficient, clean bass response. They feature injection molded polypropylene cones and 6 layer voice coils that handle around 300W RMS.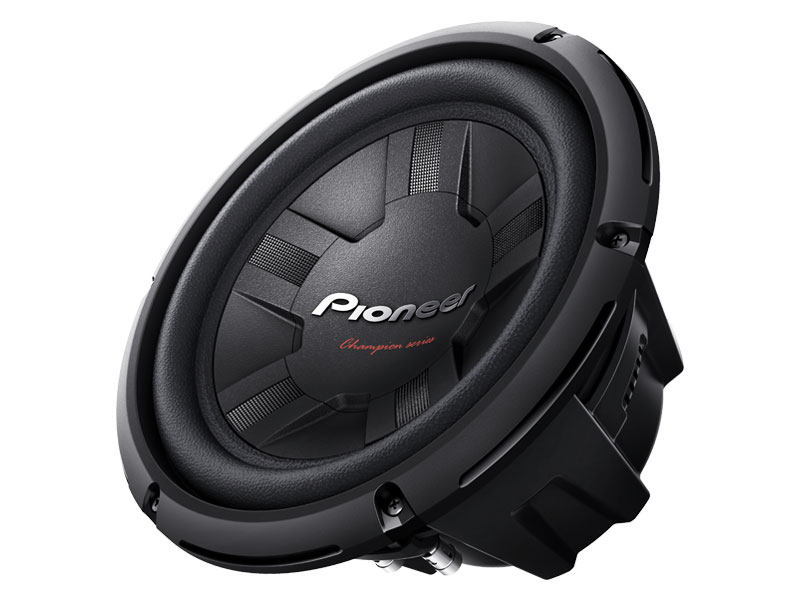 Pioneer's Champion Series subwoofers step up the bass with both single or dual 4-ohm voice coil 10″ or 12″ offerings. The Champion Series features injection molded polypropylene composite cones and dual layer elastic polymer surrounds for smooth and fast, deep and rich bass response. These subwoofers handle approximately 400W RMS, and respond awesomely to a wide variety of musical tastes and genres.
Anyone looking for high quality low frequency bass response that works flawlessly and sounds amazing with every different kind of music can get their wish by choosing a Pioneer Champion Pro subwoofer.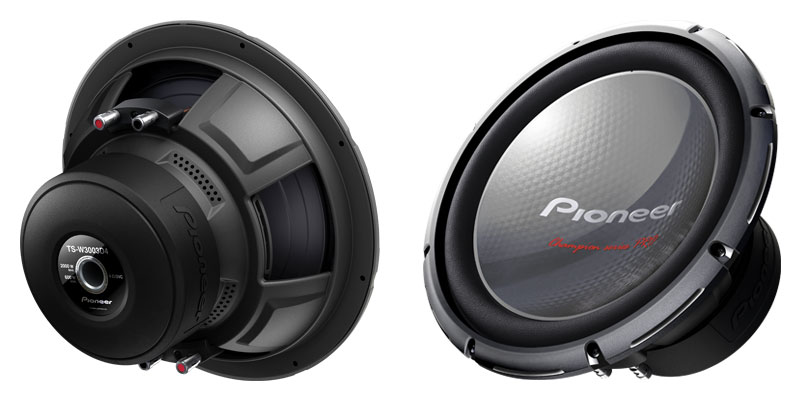 This 12″ dual 4-ohm voice coil subwoofer offers a 600W RMS power handling capacity, meaning it has the capacity to thump hard while still retaining sound quality and clarity. Like its Champion brethren, the Champion Pro subwoofer features an injection molded polypropylene composite cone combined with a dual layer elastic polymer surround in a heavy duty metal basket assembly. The result is deep rich bass that still retains excellent sound quality and frequency response.
Do you have big bass requirements but small space to spare?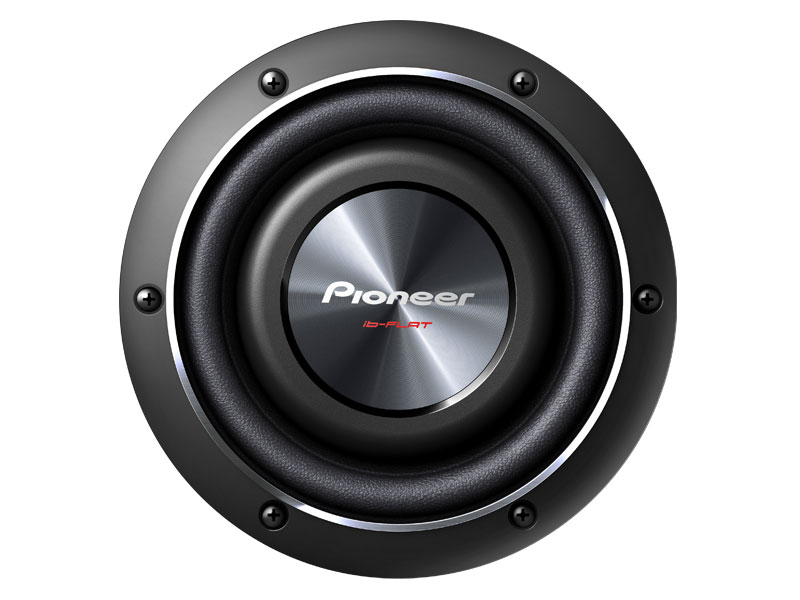 If so, then Pioneer's shallow mount subwoofers are the perfect answer to your wishes. Shallow mount subwoofers come in 8″, 10″ and 12″ sizes with power handling between 150W-400W RMS. These subwoofers come with MICA injected molded resin cones, which create a rigid and durable cone, giving them the ability to produce accurate bass.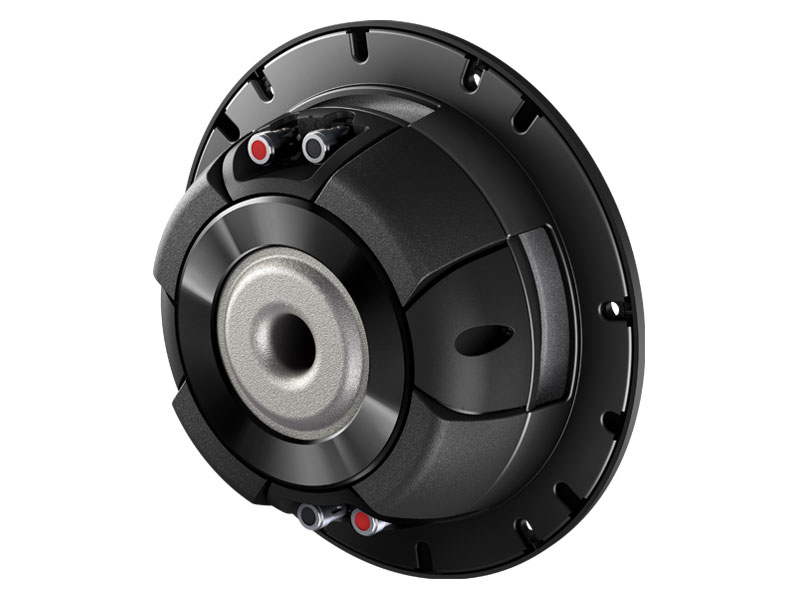 They also utilize an oversized cone structure that provides greater cone and gasket surface area without changing the standard external dimension. This increased cone surface allows the subwoofers to produce louder and deeper bass by moving more air. They come in dual 2-ohm and single 4-ohm voice coil options, allowing for flexible compatibility depending on the desired configuration.
Finally, Pioneer has introduced a revolutionary subwoofer for anyone with more space limitations than a shallow mount subwoofer allows for: The HVT Subwoofer. Pioneer's HVT is an 8 3/4″ diaphragm loaded subwoofer that comes in its own enclosure measuring only 2 3/8″ tall.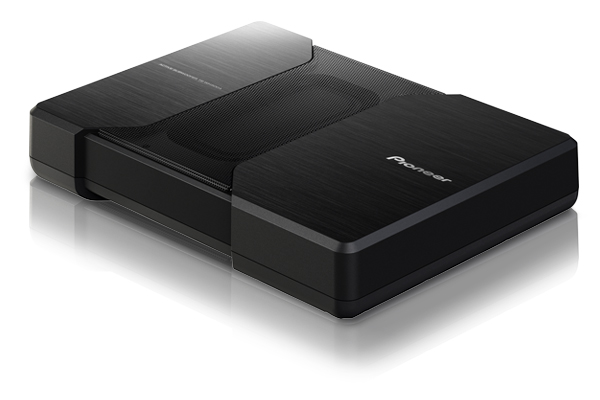 This design utilizes opposing diaphragm based baffles that create low end frequency by pushing and pulling against and apart from one another—something unheard of in the car audio industry until now, but also a design that produces clean, clear and solid low frequency bass response without the need for a classic subwoofer to do so. It can be mounted horizontally or vertically, and only requires 50W RMS to function at its optimal level. There are no more excuses as to why you cannot have bass in your vehicle, thanks to the innovative, ingenious R & D team at Pioneer!

Power Amplifiers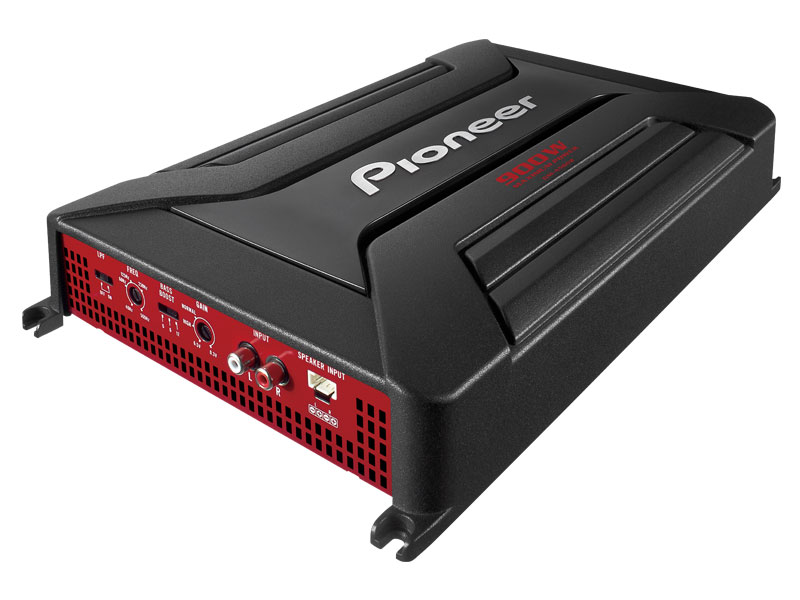 Once you have your desired speakers and subwoofers picked out, it is time to provide them with the amazing power of Pioneer amplification. Pioneer is known across the industry for making some of the finest home and car audio amplifiers, utilizing only high quality circuitry and componentry during the creation process. For consumers looking for solid quality and great value, Pioneer's GM Series amplifiers come in bridgeable 2 and 4 channel offerings that are 4-ohm or 2-ohm stable. These amplifiers feature built in crossover networks for precise frequency delineation, high capacity power supplies for stable, reliable operation, and even gain control capabilities.
If you are looking for more power and efficiency, then step up into Pioneer's GM Digital Series amplifiers. The GM Digital Series features 2-ohm and 4-ohm stable Class D technology, which means these amplifiers are very energy efficient while still producing awesome sound quality. Pioneer offers monoblock and 4-channel amplifier options utilizing improved circuit designs to deliver power and panache all in one package.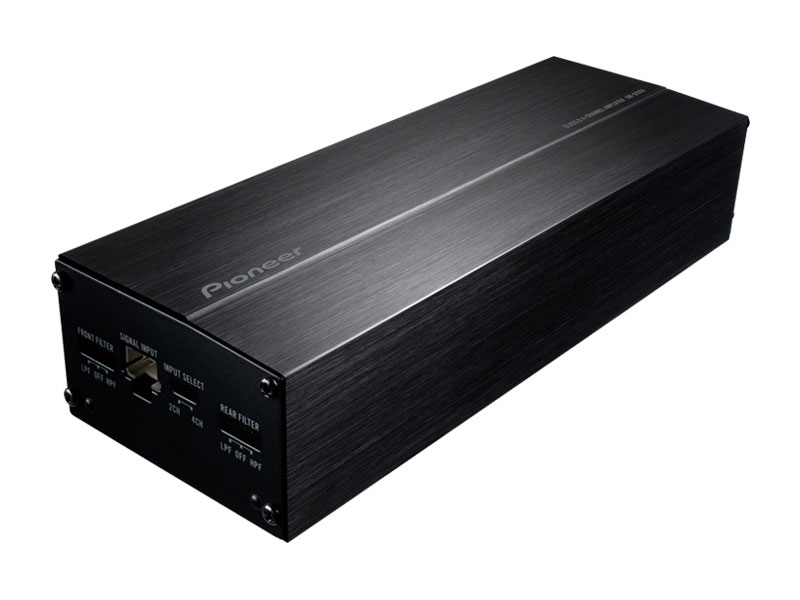 The GM Digital Series also features the compact hybrid class FD 4-channel amplifier. The refined Class FD design offers extreme efficiency and high-quality sound reproduction, all in a package small enough to be very versatile in its space and mounting options.
If you crave audiophile sound reproduction and only the highest grade componentry will do, then Pioneer's PRS Series amplifier is the only one you need. The PRS Series features a 2-channel amplifier that is 2-ohm and 4-ohm stable, has oxygen free copper output coil wiring, electrolytic capacitors, and internal vibration control that enhances power flow stability, minimizes distortion, and raises signal-to-noise ratio.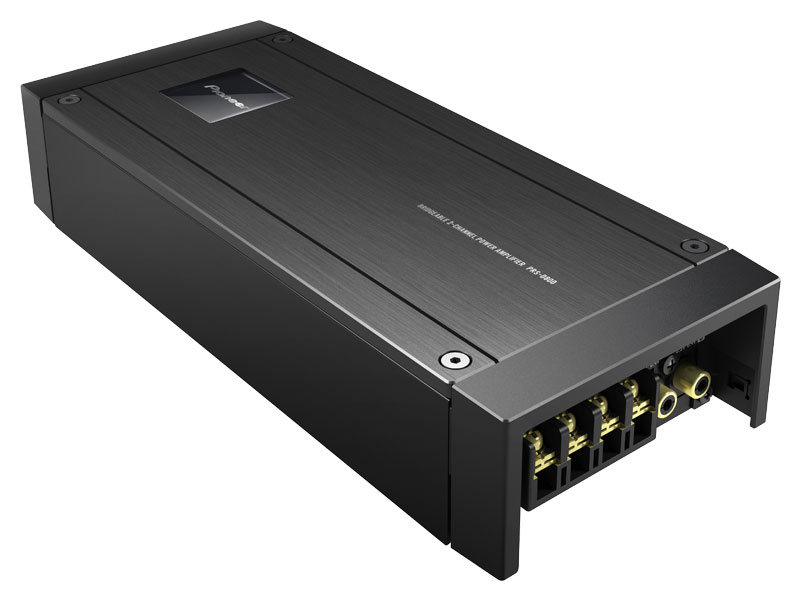 The result is an amplifier so pure and strong that each and every sound-based nuance, nook and cranny will come to life before your very ears. Pioneer amplifiers are the perfect combination of purity and power, and the perfect way to round out an audiophile grade system with style!
Call (602) 788-7222 today to obtain a complimentary estimate for Pioneer electronic equipment in your vehicle, or to schedule an appointment with our expert installation staff.